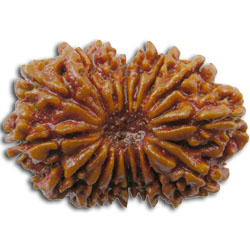 Charcterstics
Mantra

: Om Namah Shivaya

Deity

:16 Attainments

Suggested for

Administrators and Managers.
Description: 16 Mukhi Rudraksha

(Solah Mukhi Rudraksha Solah Kalaon ko Barane)
This Rudraksha is related to Sixteen Kala (i.e.; attainments and Siddhi). The person who wears this Rudraksha after proper Sidhhi ( method of purification & charging with Mantra) will get success in his all the ventures. This Rudraksha invokes 16 Kala of Moon in the wearer and opens the passage of 16 attainments. He attains 16 Siddhis and attainments.

The wearer of this Rudraksha becomes devotee of the almighty God and live his life on the passage of Satya (Truth) and gains the Punya of 7 birth. It is the form of 16 Shakti (Power). It is said that Arjun strike the Eye of fish while wearing this Rudraksha. The wearer of this Rudraksha no longer remains an ordinary person; he will become a powerful person. This Rudraksha gives all comforts and liberate the wearer from all the sins.

This Rudraksha is a powerful fruit for all humans. It Rudraksha give success in all works. If this Rudraksha is worn without reciting Mantra or Siddhi he will be considered as done sin of killing 108 Cows.
Note : Above details are taken from ancient handwritten text and Gurumukha. The description is seen in the deep meditation of Lord Shiva by Lord Datta Treya
Rules for the Rudraksha: The Wearer of the Rudraksha should chant related Rudraksha Mantra along with Rudraksha Utpatti Mantra (Mantra for the Rudraksha Origin) daily at least 9 times while wearing and removing in the night before going to sleep. More Rules ...